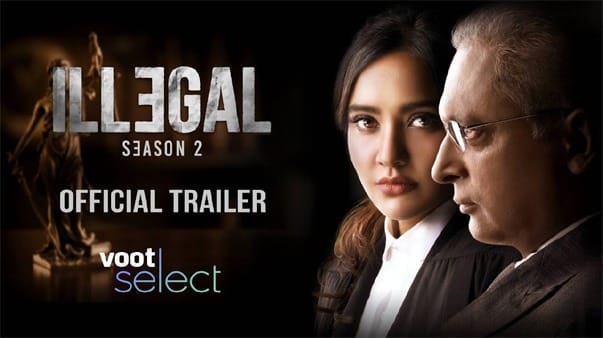 Illegal Season 2 is a Hindi-language legal, mystery, crime, and thriller web series on Voot.
It stars Piyush Mishra, Neha Sharma, Akshay Oberoi, Satyadeep Mishra, Parul Gulati, and Tanuj Virwani in lead roles along with other supporting stars.
This web series was directed by Ashwini Chaudhary. This web series was produced by Samar Khan.
Here on Voot, the complete information related to this web series is given below.
The show received mixed responses from the audience and critics. However, the end of the courtroom drama left many questions hanging, the most common being "Is Season 2 coming up?"
illegal Season 2 Details
Title
illegal 2
Available On
Voot
Released On
25 November 2021
Language
Hindi
Main Cast
Neha Sharma
Piyush Mishra
Akshay Oberoi
Satyadeep Misra
Tanuj Virwani
Parul Gulati
Genre
Courtroom Drama
Director
Ashwini Chaudhary
Producer
Samar Khan
Story and Screenplay
Advaita Kala
Dialogues
Aparna Nadig
Editor
Not Available
DoP
Santosh Thundiyil
Music Director
Salim-Sulaiman
Production House
Irada Entertainment
illegal Season 2 Cast
| Cast Real Name | Cast Roleplay Name |
| --- | --- |
| Neha Sharma | Niharika Singh |
| Akshay Oberoi | Akshay Jaitley |
| Piyush Mishra | Janardhan Jaitley |
| Kubbra Sait | Maher Salam |
| Satyadeep Misra | Puneet Tandon |
illegal Season 2 Story
Season two of Illegal is a courtroom drama. Which follows Niharika Singh, an idealistic lawyer. As she navigates difficult legal issues, high-profile conflicts, and complicated personal life.
The high-stakes battle between Niharika, played by Piyush Mishra, and her old guru-antagonist Janardhan Jaitley was taken to new heights in the second season of the famous franchise.
When Niharika took a big risk setting up her own law company, and Janardhan Jaitley embarked on an ambitious campaign to become the next Chief Minister of Delhi. So the lucrative advisor-consultant conflict intensified.
The story follows their competition as well as three complicated legal battles. Which provides an insider's view of the tangled world of complicated law, big business, and dirty politics.
Through these examples, we learn about the lives of lawyers and their battles in court and in life. But the issue remains: will justice be served or will the truth be suppressed?
Illegal is the story of our heroine Niharika Singh (the titular character of Neha Sharma). She is a lawyer and works in a renowned law firm run by Piyush Mishra's character Janardhan Jaitley.
Niharika has been hired to handle the affairs of Kubbra Sait's character. But he is forced to work on another matter. Which revolves around allegations of rape and sexual assault.
Niharika Singh (Neha Sharma) is fresh out of a top law college, and an idealist who seeks to transform the Indian legal system with her thirst for 'truth'. But in this battle between right and wrong, who will succumb to the pressure, and who is going to hold on to their belief system?
illegal Season 2 Review
Director Ashwini Choudhary doesn't waste time getting to the point. In keeping with the core idea of ​​the series, he begins the second season with Niharika's legal battle with Akshay Jaitley (Akshay Oberoi), her ex-boyfriend and son of her former mentor Janardhan Jaitley.
Her film Jaitley & Associates has filed a complaint against Niharika for professional wrongdoings. But luckily she escapes a warning. Meanwhile, Janardhan has been nominated to the Rajya Sabha. Willing to take over from Mrinalini Singh (Achint Kaur) and become the Chief Minister of New Delhi. At the same time, he is becoming more venomous and vengeful, leaving no stone unturned to get his former pupil out of legal circles.
Chaudhary has done a good job of keeping you hooked on his narrative. He also sometimes goes back and forth a bit. There are enough twists in each episode and even when you feel like it. that you guessed them; You like how they all play. And given that high and light lawyers' membership and close ties to politics, business, and the media, Choudhury has rightly shown how they can all work together when needed.
The script from Advaita Kala keeps you hooked, and is aptly complemented by Aparna Nadig's crisp dialogues. The music of Salim-Sulaiman adds to the thrill and drama.
For the most part, Neha Sharma seems to have settled into her share of the young lawyer as her former mentor. who is also on the threshold of a powerful political position? However, at times, she is not completely convinced and is clearly struggling to capture the fort. Piyush Mishra is effective as a ruthless lawyer-politician. Those who will not stop from doing something illegal when they fulfill their purpose.
Whether it is bringing in his daughter-in-law Devika (Parul Gulati) as the COO of his firm and pitting his son Akshay against him, or enlisting Mrinalini Singh to vacate the CM chair for him. Mishra plays his role perfectly.
Akshay Oberoi is very good as a descendant of Jaitley & Associates. who are eager to get out of their father's shadow. He adds the necessary gravity to his character, and it makes his performance very likable.
Satyadeep Mishra, Achint Kaur, Parul Gulati, Ankit Gupta (as Neeraj), Sonali Segal (as Stumped founder Simone), and Sheeba Chaddha (as Niharika's mother) also play their roles. Newcomer Tanuj Virwani is honest as businessman Raghav Malhotra, the new person in Niharika's life.