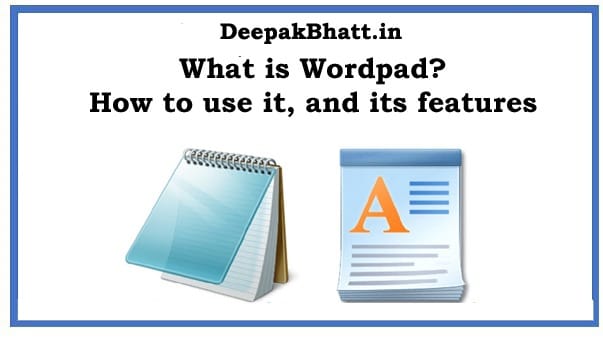 What is Wordpad: Hello, friends welcome to all of you. Today in this post, I am going to give you information. About WordPad, you must have probably heard about it. It is taught in basic computer.
We do not have to put it on the computer from outside. It comes as soon as the computer's operating system is updated. This is absolutely free application.
Which is completely different from Microsoft Word. With its help, we can do typewriting work on the computer. So let's know the complete information about it.
What is Wordpad?
Wordpad is application software. Which is made by Microsoft itself. Can be used as a notepad and with more features. It is also called a word processor.
It was developed by Microsoft for Windows 95 and Windows 7. Because it has better work progress than Notepad. It is more organized software than Notepad.
But it does not have various advanced tools like Microsoft Word. And it doesn't have many features either. If you just want to generate a normal document in it. so you can.
Which also has good features of preparing documents in it. In this, we can write letters and make notes.
Features of WordPad
Can use Wordpad as notepad
Wordpad has more features than Notepad
WordPad Has Fewer Features Than Microsoft Word
In this, we can prepare the letter
It has a good formatting option
It has italic, board, formatting options.
Comes with an operating system.
World pad is called pre-installed software
It works with every operating system
Important Functions in WordPad
Wordpad main button
This is its main button. It contains its full menu. Many options are given here. For example, commands are given to open a new document, to save, to print. With this, here we can use shortcuts. To open the file, to close, and to save and to print simultaneously.
Quick Access Toolbar
It has some special types of options. Which are made by Microsoft. Like text editors are given in the program. Buttons like Print, Text, etc. are already present in the Quick Access Toolbar. Which we can make some access any access. And easily we can use them as quickly as possible.
Title Bar
The file we are creating is in the title bar. His name appears. When we save the file. Then we would have named it. That is what appears. Which we can write in the form of a document. And save the file with the name. The same title is visible after opening it outside.
Ruler bar
It is above a text area. How much is the margin on the page through this? comes to know about him. By creating the document, we get to know about it. The page margins are managed before or after the document is created. It happens on both sides of the page. Where do we type text?
Status bar
It is at the bottom of the tax area. It has a button. Which is Zoom. With the help of this, we can zoom more and less on the page. It is located on the right side of WordPad.
Menubar option
Clipboard
Under this option, we get the option to copy, paste and cut. From here we can copy the tax. You can cut it completely and paste it in another place. The options are inside the clipboard. After that, there is another option.
Front
Under the front option, we get all the formatting options. Here we have the options of the format of the text, its size, bold, italic, underline, text, color texture background color, etc. in front and formatting.
Paragraphing
Under this option we get alignment. Indent is found. Through which we can start the text from the right and left in the middle. And with this, you can increase the space between the text.
Insert
In this option, we get the option to insert a photo, drawing, date and time, object. Which is what we are typing on our report page. can make it attractive.
Editing
we get the options of Find, Replace, Selection. Through which we have to find a word. So you can find it. Instead, you can substitute another word. and can select. All these are in the editing option.
Why do we use WordPad
We use wordpad to create documents
Along with this, its interface is very easy which can be used by everyone.
It has all the editing options, so we use it
It has more features than Notepad like to bring picture, to install. and to design.
How to open wordPad
There are many different ways to open coat paint. We use some of those methods. like
Wordpad can be opened through the search bar. For this, we have to go to search outside and type Wordpad. And press enter.
You can also use the shortcut method. For this, we have to give the command. 'Win+R' Then you will see Dialogue Box Then Type 'write' & Enter.
You can open WordPad in both the ways mentioned above. Because it is very easy. If you want to know more about this. To subscribe to our website. Do bookmarking and keep getting updates on the latest posts.